Trustees – Volunteer Role
Governance

tags

Trustee

tags

Volunteer

tags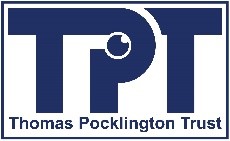 Closing date: Tuesday 31 May 2022
Help TPT in their work to support blind and partially sighted people to live the life they want to lead
Thomas Pocklington Trust is a registered charity and their objective is to increase awareness and understanding of the needs and aspirations of blind and partially sighted people. They seek to do this by improving opportunities for engagement, education and employment for blind and visually impaired people.
TPT are looking to recruit two exceptional people to join their current trustee board of ten members in giving strategic direction to this important work.
Ideally, They are looking for people with one or both of the following skills:
Communications (knowledge of messaging including PR and social media as well as raising public awareness)
Service Delivery (knowledge and expertise in developing and delivering services within the voluntary sector)
Visit the Thomas Pocklington Trust website to watch Mervyn Williamson, Chair of Thomas Pocklington Trust, as he talks about his role as a trustee on the board. He shares what is involved in being a trustee and what he most likes about it.
Join our mailing list
If you would like to receive regular news and updates about our work, then you can sign up to our mailing list.