Trustee, Berkshire Vision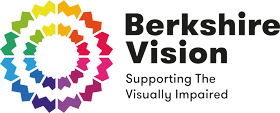 Closing date: Sunday 31 October 2021
Hours: 4 board meetings per year, up to are two additional sub-committees that meet about 4 times per year and support fundraising and awareness events
Salary: N/a
Berkshire Vision is a local charity with over a 100-year heritage of supporting blind and visually impaired children and adults across the county, helping them to live their lives to the full.
Over the pandemic the charity pivoted their support of members to offer virtual assistance and activities, increasing the number and engagement of volunteers to meet the pressing and ongoing needs of those living with sight loss.
With a growing membership, increasing numbers and engagement from volunteers – this is an exciting time to join the Berkshire Vision Board. We are now seeking additional people to join our charity as trustees on an unpaid basis. You don't need prior experience of being a Trustee. At Berkshire Vision we are a close-knit team who support each other and all the necessary guidance about taking on a Trustee role will be provided and explained.
We are hoping to attract committed individuals ideally with experience in one or more of the following areas; Sight Loss, HR, Safeguarding, Disability and/or Social care.
As a Trustee you will attend 4 board meetings per year, providing strategic direction, guidance and support to all areas of the charity. Depending on your expertise and passion there are two additional sub-committees that meet about 4 times per year. Trustees have independent control over, and legal responsibility for, a charity's management and administration. They play a very important role, in a sector that contributes significantly to the character and wellbeing of the country. Trustees are also encouraged to support fundraising and awareness events.
Being a trustee can be rewarding for many reasons – from a sense of making a difference to the charitable cause, to gaining new experiences and making new relationships.
You will have the opportunity to:
Utilise your skills for the public benefit through the support of a leading regional sight loss charity.
Deepen your understanding of charity management and governance.
Support the achievements of Berkshire Vision's charitable objectives, resulting in a visible difference for children and adults with sight loss.
If you are interested or know someone that might be suitable and would like an initial conversation, please contact Jane Veys to arrange a call.
If you would like to apply, please send your CV to:
Join our mailing list
If you would like to receive regular news and updates about our work, then you can sign up to our mailing list.