Stakeholder Engagement Manager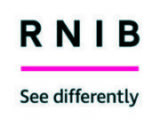 Closing date: Wednesday 02 March 2022
Location: Flexible Locations
Hours: Full time
Salary: £32,115 - £35,327 per annum
RNIB are recruiting for a Stakeholder Engagement Manager.  This role helps to manage the day-to-day operation and delivery of stakeholder engagement and communication activity and assist with the risk and issue management, monitoring and recording of activity, and reporting functions. Sitting within the Strategic Engagement Team – Third Sector, the role also supports the wider Strategic Stakeholder Engagement function.
The post holder will assist Strategic Stakeholder Engagement to be a catalyst for systems change, driving transformational social value for blind and partially sighted people and delivering benefit to the RNIB.
With experience in delivering good customer care you will have skills in effective communication, developing supportive relationships and partnerships working with a focus to improving support for blind and partially sighted people.
Join our mailing list
If you would like to receive regular news and updates about our work, then you can sign up to our mailing list.