Locum Eye Clinic Liaison Officer (North East – Ophthalmology sites)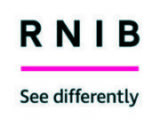 Closing date: Wednesday 20 April 2022
Location: Variable. Locum cover for Eye Care Clinics in North East. Also some home working when not in clinic.
Hours: 28 hours per week (4 days - Monday to Thursday)
Salary: £26,905 per annum (pro rata to hours of work)
Contract: Part time
RNIB is pleased to announce this exciting opportunity to join the ECLO team as part of the RNIB Eye Care Support Service. This is a rewarding role that will give the right individual the opportunity to make a difference on a daily basis.
In this role, you will be a vital member of the team working directly with people diagnosed with conditions causing sight loss. You will provide critical emotional support, information and guidance face to face within a hospital setting on a weekly basis at Sunderland Eye Infirmary (Mondays). You will also provide locum cover for periods of planned and unplanned absence for North East Eye Care Liaison Officers (ECLO) predominantly in County Durham, Darlington and South Tees NHS Trust Ophthalmology sites.  When not providing clinic cover, you will be home based, delivering support to patients remotely across the region supporting the reach and capacity of our services.
Each day you will support people affected by sight loss helping them to identify their needs, access information and make informed choices which enable and empower them to maintain their independence.
You will have significant experience of delivering health or social care support services.
Key to this role will be your excellent communication and relationship building skills with patients, clinicians and a wide range of cross sector partners.
You must be able to work on your own initiative, have excellent organisational skills and be a confident user of multiple IT systems. This service works to an industry acknowledge, quality framework and standard. The service must comply with the NHS Data Security and Protection Toolkit and so there are key processes that have to be followed and are monitored.  You need to not only like supporting people but also need to value good record keeping to success in this role.
As an RNIB ECLO you will receive the appropriate City University, London qualification, access to Clinical Supervision, peer support and the opportunity to support the RNIB's priority of "no diagnosis without support".
Appointment is subject to Disclosure and Barring Service appropriate checks.
For further information and details of how to apply, go to the RNIB recruitment website.
Join our mailing list
If you would like to receive regular news and updates about our work, then you can sign up to our mailing list.