Health & Wellbeing Service Manager – Brighton/Rustington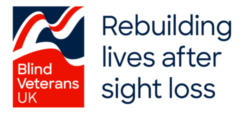 Closing date: Friday 03 June 2022
Location: Brighton and Rustington
Hours: 35 hours per week
Salary: £54,715 per annum
Contract: Permanent
Interview date: TBC
Please note the deadline for applications has been extended.
We're looking for an inspiring leader who can successfully engage and motivate a diverse team to successfully deliver a high-quality wellbeing service to our Blind Veterans. This is a wonderful opportunity for those who embrace an integrated health & wellbeing service model that enables individuals to overcome difficulties and achieve what they want out of life.
Key responsibilities will include: 
Creating a highly positive and solution focused working culture, leading and developing a multifunctional, integrated health and well-being department managing professionals from a range of disciplines including nursing, healthcare, and rehabilitation delivering first class care, bespoke specialist visual impairment interventions and high-quality wellbeing activity breaks and holidays.
This role will require you to be the Registered Manager for care, responsible to the relevant regulatory body (CIW/CQC) ensuring the Centre meets and maintains the legislative requirements associated with the relevant regulations. This will require approximately 20 registered beds (Nursing and Residential) on site.
As part of the Centre Leadership Team the Health and Wellbeing Service Manager will share responsibility for the day to day running of the Centre of Wellbeing.
They will ensure that our members co-design and create outcome-based services to improve health and wellbeing and develop resilience through the development of innovative and creative practice to ensure that the things that are important to the members we work for are achieved.
They will be highly collaborative with strong relational abilities; the post holder will represent the Health and Wellbeing agenda across the organization and external to the Charity acting as a key enabler in achievement of Blind Veterans UK's strategic outcomes.
Join our mailing list
If you would like to receive regular news and updates about our work, then you can sign up to our mailing list.