Fundraising Manager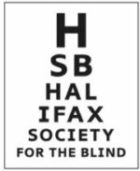 Closing date: Monday 14 March 2022
Hours: 22.5 hours per week
Salary: £15,210 - £15795 for a 22.5 hours per week (£25,350-£26,504 FTE)
Contract: Part time
Interview date: Monday 25 April 2022
Halifax Society for the Blind is a long-established Calderdale charity, having supported people with sight loss since 1888. We are developing a range of new and innovative services and moving our premises to new and high profile accessible premises in the centre of Halifax.
We are looking to recruit a Fundraising Manager to our growing and dynamic team. Starting with a blank sheet, your role will be to manage our Charity's fundraising, to support a widening range of support to people with sight loss. We are a charity that makes a tangible difference. Our dynamic and energetic team of staff and volunteers could be just the right place for the right candidate.
If you're a highly motivated person with experience of fundraising, and possess excellent engagement skills, register your interest in this role before Monday 14 March 2022 by emailing Pete Hoey with your CV, or if using Indeed, send us your CV and include your private email address. If you fit our requirements, you'll be invited to apply.
For more information, see the job description (opens PDF).
Join our mailing list
If you would like to receive regular news and updates about our work, then you can sign up to our mailing list.