Community Involvement Officer (Maternity cover fixed term contract for one year)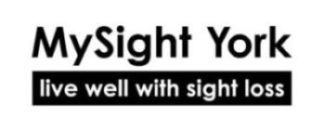 Closing date: Monday 17 April 2023
Location: York
Hours: 35 p.w.
Salary: £24,496 pro rata
Contract: Maternity Cover fixed term contract for one year
Interview date: w/c 24.4.23
MySight York is a talented local charity in York providing a varied range of services that help people live well with sight loss. We have a great opportunity to join our team as a Community Involvement Officer, funded by the National Lottery Community Fund.
In this role, you will oversee the activities program, outreach and engagement and sight loss awareness training courses.
You will be a vital member of the team, providing a positive experience for all visitors into our offices and to act as a public ambassador and trainer out in the community.
Supervising the Community Connector, you will work with collaborator organisations to deliver a project that transforms activities and services in York and in the surrounding area. This transformation will enable the collaborating organisations to be more accessible to people with sight loss, which will improve wellbeing and reduce feelings of isolation.
The project seeks to build enduring connections between MySight York and a range of community organisations working in:
Sports, health and wellbeing;
Arts, crafts and humanities;
Accessing information and communication technology;
Children and young people's activities.
You must be a good team player who can work well with clients, volunteers, staff and collaborating organisations but also be able to work on your own initiative to prioritise your workload.
Respond to enquiries in a professional manner, referring where necessary and provide a high-quality customer focused service in support of the project and MySight York as a charity.
Demonstrate an understanding of sight loss and the needs of people who are blind or partially sighted and have an experience of working with people with a disability.
How to apply
Join our mailing list
If you would like to receive regular news and updates about our work, then you can sign up to our mailing list.