Communications Officer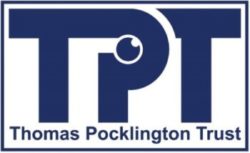 Closing date: Friday 17 December 2021
Location: Pocklington Hub, London
Hours: Full time
Salary: £26,500 to £31,500
Contract: Permanent
Are you an exceptional Communications Officer keen to work with a charity that makes a real difference to the lives of blind and partially sighted people? Thomas Pocklington Trust want to hear from you!
TPT have an exciting role in their small but perfectly formed comms team where you would be writing, editing, co-ordinating and publishing content across various channels, including the website, social media, print and online marketing materials.  You'll be instrumental in the planning and delivery of comms strategies and campaign plans. You'll create multi-media communication materials and analyse their traffic and engagement, inputting ideas and plans on how TPT can grow these.
It's a role you can really get your teeth into! It's varied. It's fun and you get to work with nice people!  And there are opportunities to learn new skills and develop.
Thomas Pocklington Trust is a national charity dedicated to delivering positive change for blind and partially sighted people and, with almost half of their colleagues being either blind or partially sighted, it lives its values.  TPT therefore particularly welcome applications from blind and partially sighted people.
Click here to read more on the Thomas Pocklington Trust website.
Join our mailing list
If you would like to receive regular news and updates about our work, then you can sign up to our mailing list.