Try showdown, a new VI sport in the UK, and other inclusive activities at BBS's Have a Go Day in Kent!
News

British Blind Sport

tags

Have a Go Day

tags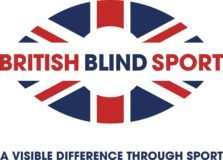 British Blind Sport (BBS) is hosting a multi-sport Have A Go Day in Kent for individuals and families living with sight loss. The free event will take place on Saturday, 14th May, 2022, from 10am to 3pm at The Lenham School, Ham Lane, Lenham, Maidstone, Kent, ME17 2LL. The event will provide a friendly and supportive environment for blind and partially sighted people to participate in a variety of activities such as goalball, football, boccia, and inclusive workouts with activity provider Brand Inc Fitness. Attendees will also have the opportunity to try showdown, a fast-paced game designed specifically for those with visual impairments, and play on the very first tables available in the country.
BBS is the national charity that supports blind and partially sighted people to get active and play sport. Its Have a Go Days have been held successfully across the country since 2016, encouraging blind and partially sighted people to take their first steps towards living an active lifestyle.
Philippa Bass, Participation Officer at BBS said,
"We are very excited to be visiting Kent as part of our Have A Go Day programme. The events are intended to raise awareness of local opportunities, increase club membership and broaden entry-level participation in sport. Our Have A Go Days have always been extremely popular, and we encourage blind and partially sighted people of all ages and abilities to come along and join in on the fun!"
BBS is also running First Steps Family Days alongside our Have a Go Days. First Steps is a national project, funded by Children in Need, and helps young people with sight loss get more active by improving their motor skills and building confidence in their abilities. First Steps Family Days allow young people with sight loss from aged 2-11yrs to try out locally available sports and meet other young people with sight loss. Young people taking part will be welcomed into an introductory session and then join in the wider activities available at each Have a Go Day. For more information on Family Days, please email firststeps@britishblindsport.org.uk or call 01926 424247.
Registration is required for this event. The registration form is available on the BBS website.
For more information, please visit the BBS website.
Or email our Participation Officer or call 07792 710570.
BBS is always grateful for the help of volunteers at events. Please get in touch if you can spare some time to help attendees enjoy the day.
Join our mailing list
If you would like to receive regular news and updates about our work, then you can sign up to our mailing list.