Royal Recognition for Superb Volunteers at Local Charity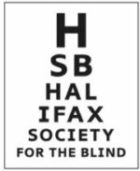 Local charity, Halifax Society for the Blind have been awarded the prestigious Queens Award for Voluntary Services, for the work of their volunteers supporting local people struggling with sight loss. Only a small number of charities manage to achieve this award, which is the equivalent of an MBE for volunteer groups.
Speaking at a Volunteer Open Day on 7th June, Sue Mort, Chair of HSB will say,
"We are truly honoured to have received this award. Our volunteers are enthusiastic and determined in providing a variety of support including; supporting group activities, coaching people with new technologies, giving practical advice about sight aids and providing social interaction in a range of settings. Our volunteer trustees have also guided our Charity through the recent tough times, and I'm proud of all of them."
Faye Herbert, Volunteer Manager, will say,
"It is a true honour for our charity to receive this reward. Our volunteers are a dedicated team who work tirelessly to support local people living with sight loss. It is heart warming that their hard work and the hard work of the organisation has been recognised in this way."
Pete Hoey, Chief Officer at HSB will say,
"This is a humbling award, as we were nominated by local people. Our volunteers are a fantastic bunch who go the extra mile. Our Charity will soon be moving to exciting new premises in Southgate, and achieving this award highlights the bright future for volunteering with HSB."
During the heights of the Pandemic, volunteers stepped up to deliver telephone befriending and remote IT support services for local people who were more isolated than ever. The work they did has been replicated by sight loss charities across the UK.
The new central location of the Charity, at Southgate, in the heart of Halifax town centre, is expected to be a particularly strong pull for people wanting to regularly give their time while visiting the town for other purposes. Anybody wanting to enquire about HSB's volunteering programme should call 01422 352383, or email, where you will be provided with information on taking the next step.
Join our mailing list
If you would like to receive regular news and updates about our work, then you can sign up to our mailing list.