Sight for Surrey Open Day!
News

Open Day

tags

Sight for Surrey

tags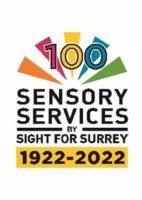 Would you like to learn how to confidently and safely guide a blind person or understand more about being Deaf, why Deaf is written with a capital D and learn some basic British Sign Language? Then come down to the Sight for Surrey Open Day on Wednesday 4th May, as we are throwing open our doors and welcoming everyone from the local community to meet our teams, find out about our services and have some coffee, cake and celebrate our Centenary!
The Sight for Surrey Open Day (opens image of flyer) will be held at Rentwood, School Lane, Fetcham, KT22 9JX.
11am – 1pm: Local businesses, organisations and the wider community are invited along to explore the services that Sight for Surrey provides, and to gain a greater understanding of our unique role within the community. There will be workshops, talks and demonstrations throughout the morning open to individuals and business representatives:

Deaf Awareness Taster Session (40 mins): 11:30am & 12:30pm
Equality, Diversity & Inclusion Workshop (40 mins): 11:30am & 12:30pm
Let's Talk Tech (30 mins): 1:30pm
Sighted Guide Training: short taster sessions available between 11am – 2pm
Representatives from each department will be bringing their expertise into the open to demonstrate the many parts of the specialised service and how we may be able to help you, or your organisation.
1pm – 3pm: We are opening our doors to everyone from 1pm for the Coffee, Cake and Celebrate part of the day. Meet the team, have a look around, and enjoy a cup of coffee on us – we hope to see you there.
For further information about the day or to register your interest for a particular talk or workshop, please email Vivienne Salter.
Join our mailing list
If you would like to receive regular news and updates about our work, then you can sign up to our mailing list.