RNIB launches our #StillLeftOutOfLearning report
News

#StillLeftOutOfLearning report

tags

Children and Young People

tags

Education

tags

RNIB

tags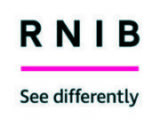 This week RNIB launched our #StillLeftOutOfLearning report which uncovers the significant pressure that specialist educational support for children and young people with vision impairment (VI) is under in England.
Despite more children and young people with VI requiring specialist support, our research into local authority provision found significant variation in service structures, practices and budgets. Long term trends of inconsistent funding for these services leads to provision becoming increasingly stretched.
This results in a postcode lottery of specialist support, leaving many children and young people with VI without the support they need to participate in education and all the opportunities childhood has to offer.
Our #StillLeftOutOfLearning report outlines the current provision of specialist education services across England, based on our Freedom of Information survey from Autumn 2021, and lists recommendations for the Government which will form a key basis for our SEND Review response.
You can find the full report and interactive map on the RNIB website.
Please share this template tweet and infographic to help raise awareness.
Three quarters of local authorities in England have had budgets for specialist education support for children with vision impairment cut or frozen in the last four years. I support @RNIB's #StillLeftOutOfLearning report and recommendations: rnib.in/LeftOut
Join our mailing list
If you would like to receive regular news and updates about our work, then you can sign up to our mailing list.