RNIB holds free online workshop focussing on accessible voting, 17 and 25 March 2022
News

#BlindVotersCount

tags

election

tags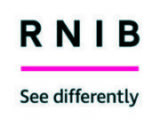 RNIB are asking blind and partially sighted people to lobby their MP as part of our Elections Bill campaign, so we need your help! Join us for a free online workshop focussing on accessible voting including:
The current Elections Bill and what it could mean for your right to vote independently and in secret.
An overview of parliamentary structure and the law-making process in the UK.
Working with your local MP including how to get the best out of a meeting and troubleshooting tips.
Ways in which you can help us to persuade the government to #SeeDifferently about blind and partially sighted voters.
Choose from two different dates and times:
Thursday 17 March, 11.00am to 12.00pm
Friday 25 March, 2.30pm to 3.30pm
For queries and to book your place please email Rebecca Swift or 07852 775 124.
#BlindVotersCount
Join our mailing list
If you would like to receive regular news and updates about our work, then you can sign up to our mailing list.