Launch of East Lancs Visual Impairment Network (ELVIN)
Launch of East Lancs Visual Impairment Network (ELVIN)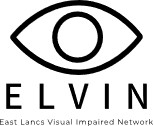 A Statement by the Trustees of Accrington and District Blind Society 
Accrington & District Blind Society was founded in 1875 to support blind people living in Accrington. We have been proudly fulfilling that mission over the years and through the many changes in the community and the wider world. We are grateful for the support of the people of Accrington as donors and volunteers who have enabled and supported the work we do.
Since 1875 the world and in particular the attitude of the public towards disability and the needs, expectations and aspirations of people living with sight loss have changed. As a local sight loss charity, we have always endeavoured to reflect and support people through those changes. In addition, there has been a growing trend for the Society to receive requests for support from outside the Accrington district. In the past year more than half of the people using our services lived outside the Borough of Hyndburn in various locations throughout East Lancashire.
There are many sources of support for people living with sight loss ranging from excellent social groups which help reduce the isolation that visually impaired people experience through to the valuable talking newspaper services which keep people in touch with the wider world. As a Society we appreciate and value these organisations and look to support them by referring people to their services.
As trustees we have decided that now is a suitable time to make a change.
From today, Tuesday 5th April, the Society will be launching ELVIN (East Lancashire Visual Impaired Network). We consider this name better reflects the changes in society, the range of people we support, the work we do and our commitment to support other local sight loss organisations.
ELVIN will be the name we shall use for the provision of our services in the wider area of East Lancashire.
Accrington & District Blind Society will remain the official title of the organisation registered with the Charity Commission and other regulatory bodies. Our registered charity number will remain unchanged.
Over the coming months the ELVIN branding will be included on our revamped web site, social media, and other publications as appropriate.
To minimise costs and in recognition of the considerable loyalty from the public and service users locally the 'name above the door' at our Bookshop in the Arndale Centre and our Sight Resource Centre at Bank Street in Accrington will remain that of the Society.
We are excited about this important development in the life of the charity and hope that you will continue to support, in whatever way you are able, the work we do to improve the lives of people living with sight loss throughout East Lancashire.
The Trustees, Accrington & District Blind Society.
Join our mailing list
If you would like to receive regular news and updates about our work, then you can sign up to our mailing list.