Join Metro's first social and activity weekend
News

activity weekend

tags

Metro Blind Sport

tags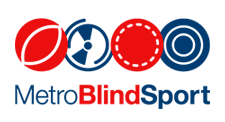 Metro Blind Sport are very excited to bring you our first ever social and activity weekend 25/26 February 2023.  We are aiming this first event at those age from 18 to 35ish to encourage members to join and take part.
The event will be held at an activity centre in Thetford, Norfolk.  We will meet and greet you at Thetford bus/train station – there is a direct bus to Thetford from London Victoria or the train is from Kings Cross with a change at Cambridge (we will help you arrange assistance if you need it).
We will arrive at lunch time on the Saturday and after making introductions over lunch, we will have the opportunity to take part in several activities like the tree top trail, Jacobs ladder, canoeing, caving (they have a man made system – all very safe) and archery.  We will be very ready for dinner after all that exercise, and then enjoy some time to chat and have a quiz.
After breakfast on Sunday, we will do a couple more activities before having lunch and then making our way back to the station.
Rooms are shared, you can choose who to share with or you will be allocated a room with someone of the same sex.
For more information, contact Tracie on 07837 721648 or email on tracie.tappenden@metroblindsport.org  Numbers are limited so please do get your name down.
The weekend is being funded by the Sport England Together fund through BBS so we are only asking for £30 contribution towards the event.
There will be staff and volunteers from Metro at the weekend to support you and make sure the weekend goes well.
I look forward to hearing from you.
Best wishes
Tracie Tappenden
Join our mailing list
If you would like to receive regular news and updates about our work, then you can sign up to our mailing list.