Fitpros invited to free workshops to learn how best to include people with sight loss in physical activity sessions
News

Metro Blind Sport

tags

physical activity

tags

Step Change Studios

tags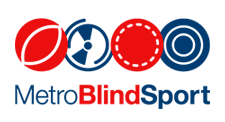 Fitness professionals are being invited to a free online workshop to gain practical guidance on how to successfully engage people with sight loss into their physical activity sessions.  There is a choice of two 90-minute workshops taking place on Saturday, October 23rd at 2 pm or Friday, October 29th at 1 pm. The workshops will be delivered by Step Change Studios. The award-winning dance company is committed to making dance accessible for everyone. Supporting the workshops will be one of the company's visually impaired students, who will be sharing her lived experience.
These sessions directly respond to research that Step Change Studios undertook among 128 fitpros as part of their Dance Dosti programme in partnership with Metro Blind Sport. Their answers revealed a clear lack of inclusive training and very low confidence in supporting people with sight loss in their physical activities. The research also showed a desire among fitpros to upskill in order to be able to work with this demographic and an acceptance that it is currently not well catered for within the leisure sector.
Key findings from the research showed:
Just 12.5% of fitpros felt 'very confident' teaching someone with sight loss
77.3% cited their lack of specialist training in supporting people with sight loss as a barrier to them being fully inclusive
72% said hearing from someone with sight loss would be most helpful to them in supporting people with sight loss
Furthermore:
73.4% rate the dance/fitness sector as 'poor' in terms of access and inclusion of people with sight loss
The top three factors that fitpros believe are barriers for people with sight loss to take part in physical activity are:

Accessibility of venue and equipment – 85.9%
Finding information about opportunities – 85.2%
Low confidence in the activity provider – 80.5%
The Dance Dosti workshops aim to break down these barriers and build up skills and confidence in fitpros by providing practical guidance and exercises.
Very real need
In the UK, almost 2 million people are living with sight loss, and every day 250 people begin to lose their sight. (1). Activity Alliance (January 2021 – (2) found that disabled people felt that they did not have the opportunity to be as active as they wanted to, compared to non-disabled people (29% vs 44%). Respondents said the lack of activity had made their physical and mental health harder to manage, while feelings of loneliness and social isolation were frequently voiced. These findings tally with research from Blind Ambition that shows people with sight loss are reported to have several associated conditions, including depression, anxiety, and diabetes (3).  It is widely known that physical activity can help to improve all three of these conditions, but, as the Activity Alliance states, disabled people are twice as likely to be inactive compared with non-disabled people.
"I have seen first-hand the physical, mental and social transformation among disabled people when they're introduced to physical activity,"
says Rashmi Becker MBE, Founder of Step Change Studios.
"The aim of our workshops is to encourage fitpros to reflect on their current practice and to improve insight, skills and confidence to support people with sight loss in their sessions."
The Dance Dosti programme was launched earlier this year to support people with sight loss to be active. It is especially focused on participants from a South Asian background. Central to this programme is understanding the views and experience of fitpros in supporting people with sight loss and enabling better practice. Dance Dosti is supported by Vision Foundation.
HOW TO SIGN UP
To register for one of the workshops, visit LINK
Media contact:
About Step Change Studios
Step Change Studios is an award-winning dance company committed to making dance accessible for everyone. Based in the UK, it offers fun, engaging dance opportunities for people of all ages and abilities. It provides classes in the community; tailors programmes for different settings, including education, care, the arts, sport and leisure; produces professional dance performances and productions; shares experience through conferences and workshops, and creates imaginative bespoke dance projects.
Step Change Studios has received numerous accolades, including the One Dance UK Award for Innovation and the London Sport Award for Health and Wellbeing. Its founder Rashmi Becker was recently recognised in the Queen's Birthday Honours list with an MBE for services to disabled people.
About Metro Blind Sport
Metro Blind Sport is a London-based charity that creates fun, accessible sport and physical activity opportunities for blind and partially sighted individuals of all ages and abilities. Established in 1973 by a group of passionate blind and partially sighted individuals keen to break down barriers to sports participation, the organisation offers opportunities to get involved in a wide variety of sports, primarily located within Greater London.
Metro Blind Sport has been at the forefront of promoting blind and partially sighted sport since it began, initiating the adaptions to sports, influencing National Governing Bodies, advising on equipment developments and supporting coaches and volunteers to get involved.
Contact: martin.symcox@metroblindsport.org  07508 958927 metroblindsport.org
Footnotes
The Activity Trap: two years on, Activity Alliance, 8 October 2020 (opens Activity Alliance website)
Join our mailing list
If you would like to receive regular news and updates about our work, then you can sign up to our mailing list.