Award Winning Rainbow collaboration increase their activity during new Covid…
Award Winning Rainbow collaboration increase their activity during new Covid guidance
News

Rainbow Collaboration Group

tags

technology

tags

wellbeing

tags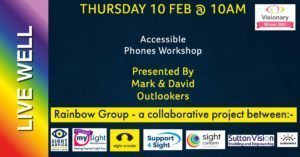 The Rainbow Collaboration Group is a group of 7 small to medium sight loss organisations (My Sight Nottinghamshire, Outlookers, Sight Advice South Lakes, Sight Airedale, Sight Concern Worcestershire, Support 4 Sight and Sutton Vision) who have joined together to provide bi monthly Zoom sessions on quality of life and technology for their customers with a visual impairment. By sharing skills and audience it has been possible to have regular ongoing events which have proved popular.
During the government's Plan B Covid response, plus winter, the programme has been extended to weekly events in January to March adding extra events around research into sight loss conditions such as Macular, Charles Bonnet and Gene Therapy inherited conditions  research. These events are shared with any sight loss organisation who may have people, staff or volunteers who may want to attend these events.
Here is the programme, anyone is welcome, just log/ or dial in free from from landline (not free from mobile), phone, details below. Anyone interested in knowing more just email tim@sightadvice.org.uk
Zoom Programme – Rainbow Collaboration Group
All meetings are on a Thursday at 10.00 am.
Joining details
Joining link: https://us02web.zoom.us/j/4580437872
Meeting ID: 458 043 7872
FOR THOSE ON LANDLINE PHONE
dial 0203 481 5237 and when asked put in the
Meeting ID: 458 043 7872
Programme
January 27th – Mo Iqbal, Taira Technology, family run business that really knows about the needs around technology for people with sight loss. Presentation and Q & A session.

February 3rd – Judith Potts, Esme's Umbrella, Charles Bonnet update on new research and awareness session

February 10th – Accessible phones workshop, from big button landline to latest I phone – Mark and David from Outlookers.
February 17th – Yoga for blind people Hannah Wroblewski
February 24th – Future Vision –Choosing the correct lighting for sight loss, Antony Horner from Sight Airedale.
March 3rd – Learning to Cook with Sight Loss, Simon Mahoney. How do you cook when you're totally blind and your wife dies at the start of a Pandemic?  This was the situation faced by former Royal Marine Simon Mahoney in March 2020.  His solution was to write a basic Kitchen survival guide called "First Catch your Rabbit". In this talk Simon will tell his story, how he organised his kitchen, he will use a meal to demonstrate the method he devised.
March 10th – Glaucoma UK, World Glaucoma Week.
March 17th – Vicky Blencowe,  helpful photography techniques if your visually impaired.
March 24th – Future Vision- Goodmaps TBC
March 31st – Geraldine Hoad Macular Society gives an update on research into wet and dry Macular.
Join our mailing list
If you would like to receive regular news and updates about our work, then you can sign up to our mailing list.